Comparing lingual braces and invisible aligners
At Ortho3 in Sydney's CBD and Bondi Junction, we strive to provide our patients with a wealth of orthodontic information so they can make an informed choice when it comes to their orthodontic treatment. For our adult patients and our highly compliant young adult patients, our team of orthodontic professionals understand that it is important to discuss and compare the various treatments that can help them straighten their smile discreetly.
For young professionals and matured adults, the appearance of an orthodontic device can be a daunting thought. This is why we offer a number of subtle options to correct various dental blemishes and crooks without requiring visible metal brackets or wires.
Here at Ortho3, we believe that our lingual braces and invisible aligners are the most desirable option for discreetly correcting smiles. There are a number of different advantages to both treatments however your specific orthodontic condition will play a large role in deciding which treatment is best for you.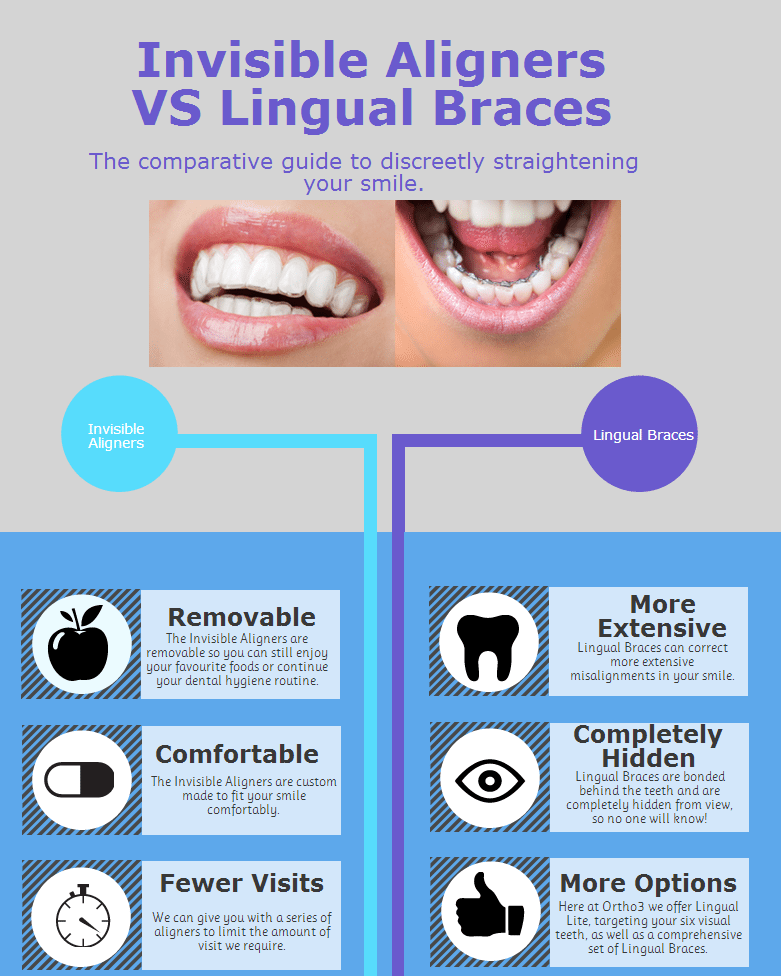 Lingual Braces: the inconspicuous option
For those looking to straighten their smile with absolutely no visible indication that they are receiving orthodontic treatment from the team here at Ortho3, we offer lingual braces. Lingual braces are bonded behind the teeth, so they are completely hidden from view.
Lingual braces can be suitable for most orthodontic cases and can often treat concerns that invisible aligners cannot treat. This system is also desirable as we have two options to sit your smile. We offer:
Lingual Braces which are a full set of braces attached to the inside of your teeth to address a number of orthodontic concerns, often achieving the most extensive results.
Lingual Lite targets the 'social six', meaning the visible 6 teeth in both the lower and upper arch. This system allows our team to correct minor concerns quickly.
Both of these systems utilise custom made brackets and wires that are bonded to the back of your teeth. Lingual braces can also be a desirable option as they are fixed to your teeth, which mean you do not have to worry about swapping over your orthodontic device regularly.
During your initial consultation with Dr Kerry Lester, he will discuss with you which lingual option is best suited to your smile and your aesthetic goals.
Invisible Aligners: the clear option
The invisible aligners can gently guide your teeth into place with a series of clear removable trays. The invisible aligners are suitable for minor orthodontic concerns and operate without the need for metal wires or brackets.
The aligners are beneficial as they are removable, so you can take them out to brush your teeth and perform your regular dental hygiene routine. In addition to brushing your teeth, you can also take them off to enjoy your favourite foods or attend special events. Patients are required to wear their aligners between 20 – 22 hours a day.
Working with your aesthetic goals
Dr Kerry Lester and our team at Ortho3 will discuss the orthodontic options that are available to suit your smile and your overall desired result. Your individual dental condition will impact which choice is most suited to you. While lingual braces are often suitable for most cases, invisible aligners are normally used to address more minor orthodontic concerns.
To find out more, or to book an appointment, please contact us.