The good news for adults now is that there is a way to straighten your teeth without others noticing, but can everyone have them?
Here at Ortho3 we are able to provide our patients not only with more than one discreet option for straightening teeth but also with access to orthognathic treatment.
Today we will discuss the different discreet options via our latest video "How to straighten your teeth without anyone noticing" explaining how they differ and what type of correction options would best suit you.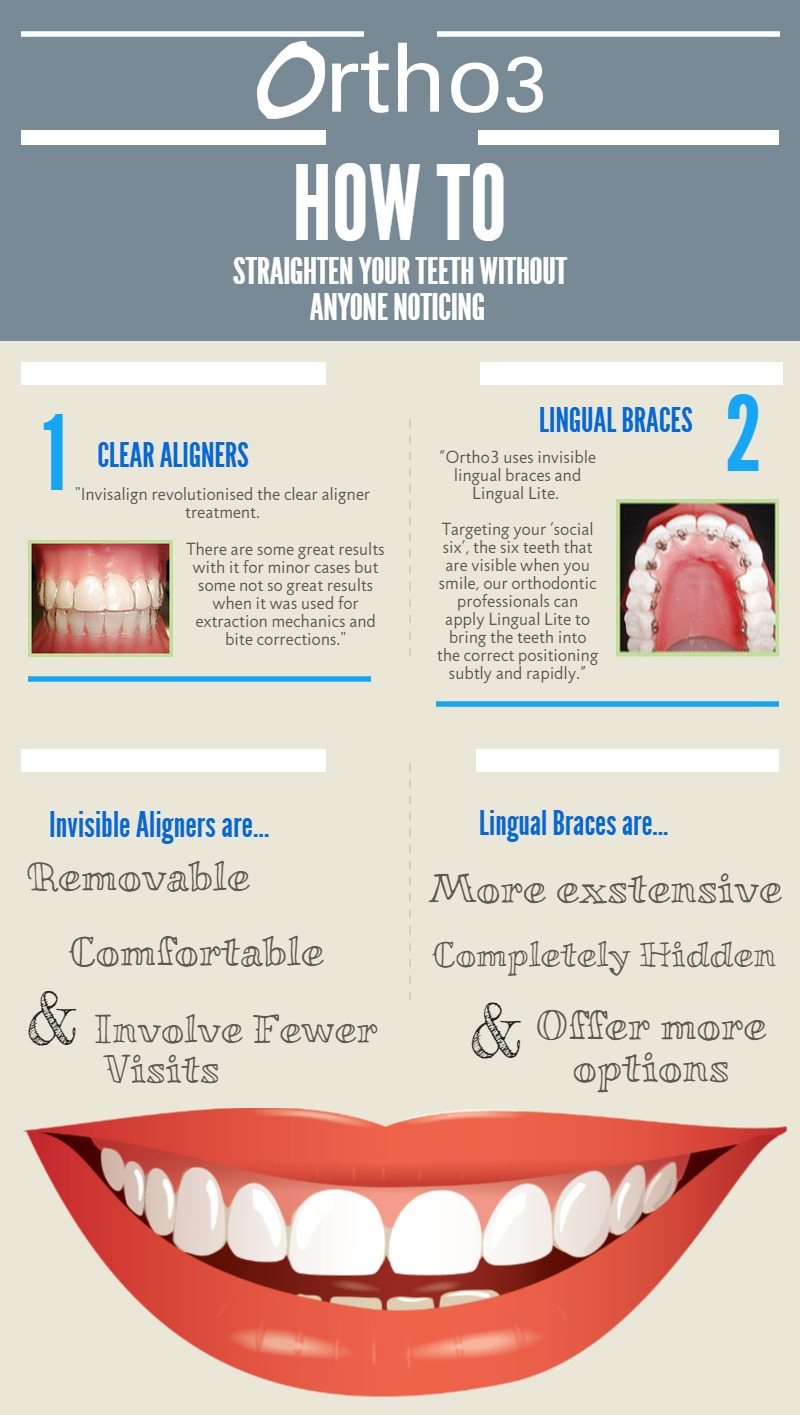 Although both invisible aligners and lingual braces can give you the opportunity to straighten your smile discreetly, both treatments differ considerably.
Lingual Braces
Using an array of brackets, wires and other components, the lingual braces follow a complex design that is fixed along the inside of the mouth.
Initially, lingual braces were quite tricky to place and correct but now with the new generation of digitally made appliances, precision brackets, custom formed archwires and robotic assistance, we have absolute control and the braces can't be seen because they are on the inside of your teeth.
When it comes to correcting bites and alignment – really any difficult malocclusion can be treated with lingual braces. In fact, we have even taken patients to surgery with lingual braces on.
Invisible Aligners
Using a series of plastic aligners that look somewhat like a more advanced version of a plastic retainer, invisible aligners act as a transparent straightening tray that rests against the teeth. Custom designed to suit your smile perfectly, the aligners work to gently shift the formation of your smile.
Once the teeth have shifted to suit the aligner, Dr Kerry Lester will give you the all clear to upgrade to the next aligner. The process will then be repeated until you and Dr Lester are completely satisfied with the result.
You and your bones
In some cases, orthodontic treatment alone may not be able to restore balance to your smile. In cases where the jaw bone or facial structure is severely out of line, orthognathic treatment may be required.
Here at Ortho3, we offer orthognathic for patients who can no longer rely on bone development to assist in the restoration process.
Orthognathic treatment focuses on creating facial harmony for the patient and is appropriate for adults that are no longer experiencing adolescent growth. Using precise surgical skill and technology, Dr Kerry Lester is able to correct severe skeletal dysplasias, restoring stability and facial harmony to the face and jaw.
Choose Dr Kerry Lester for your orthodontic treatment
Dr Lester has 20 years of experience as a specialist orthodontist and over 10 years teaching as a clinical tutor at The University of Sydney in the Discipline of Orthodontics. With two locations in Sydney's CBD and Bondi Junction, Dr Kerry Lester can help you restore harmony to your smile.
For more information on straightening your smile discreetly, book a consultation today.